6 Tips for At-Home Fitness

Working out at home can be a great alternative to hitting the gym with gyms worldwide closed or operating at a limited capacity, exercising at home or outdoors in your garden seem like the most widely available option.
Training at home is convenient, effective and inexpensive but it isn't always easy.
Distractions and a lack of space can make working out at home a challenge - but this doesn't have to be the case. Taking simple measures to improve your home training environment can make an impact difference to your motivation, commitment and performance.
Creating your own personal "gym" in the garage, corner of a room or somewhere else in the house is a great way to ensure that you work out as much as possible at home. You'll be glad that your bathroom and kitchen are nearby and you get to pick the playlist!
Once you have prepared the training area, keep the equipment organized and separate from the main living area and that way, every day you come in, it would definitely feel like a little getaway! And you'll have everything you need in one spot, so you'll waste less time looking for your equipment and more time working out!
You also don't need to have all that fancy or expensive equipment at home -You just need to get creative when it comes to home workouts. To keep up with your exercise routine, you'll want to stock up on some equipment depending on your workout plan.
Basic options would be an Agility Ladder, Jumping Rope, Resistance Bands, Battle Rope, or what you'd normally have in the gym like dumbbells, a utility bench or a body balance ball. This array of home gym equipment — won't break the bank and will still allow you to get the most out of your work out.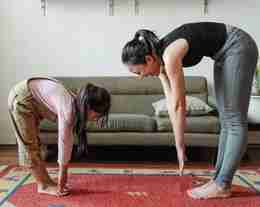 To really get the most out of working out at home, try these top 6 tips:

The biggest obstacle when it comes to working out at home are all the distractions that may cut your workout short. Whether it's family, errands or anything unexpected. There are more things at home to side-track you off your focus than anywhere else.
To get the most from home workouts would be to minimize distractions like telling family members you need to be left in peace for your workout time or pausing notifications or muting your phone and keeping the TV turned off.

Having a schedule is essential and putting your workouts in a journal or calendar would help keep you motivated and consistent. You may also write down your daily workout plan which is an effective way to keep yourself focused and responsible in order to to keep yourself committed and accountable.

Always remember to warm up and recover

Studies show that warming up is the most important and indispensable part of every workout as it also increases muscle strength -risk of injuries is significantly less likely to occur, and your performance during your workout will be better. Start and end every workout by stretching to warm up the muscles.
Another option for warming up at home could be walking up and down the stairs or you might also find it helpful to put on your running shoes and do 15 minutes of house- or yard-work. It's a great way to warm up and get a little extra energy before beginning your workout. Warmed-up muscles are more efficient, and the major training exercises are easier to perform because the body is prepared for them.
Wear something nice and comfortable

Wearing fitness clothes that offer both support and comfort makes you more confident about yourself or dressing like you're actually going to the gym will help you feel more like exercising when you're wearing athletic clothes.
You may also want to invest in good, supportive running shoes. Taking care of your feet is extremely important. So do some research into what type of shoe you need to wear for your workout.

Try exercising in the morning

Working out in the morning has many benefits for your health and your schedule. It increases metabolism, improves physical and mental energy, and reduces stress.

Water is a key element of fitness. It is very important, especially in hotter conditions to hydrate before you start exercising.
Replenishing your body with essential minerals will help allow it to run properly, which will increase your chances of achieving your exercise goals.
Home workouts are entirely customizable, time-efficient and cheap. Commit to the time and balance and simply trust the process!
You'll feel better, sleep better, be more confident and productive and be on your way to living a healthier life!