3 Fun Ways to Get in Shape with the Agility Ladder

Agility training is a unique kind of workout that offers high-intensity interval exercise, which burns calories faster. You can target fat quickly because agility training offers short intense activity that works better than low-intensity cardio exercises.
Agility ladder drills can help you meet the minimum 150 minutes a week of cardio guidelines recommended by the Center for Disease Control (CDC).
You can increase speed, quickness, and agility when you learn to accelerate, coordinate, and switch positions and directions in a short amount of time. No gym membership needed! Agility is a valuable ability that can enhance other skills needed for strength training, dance, or Pilates.
3 Fun Agility Ladder Drills That Burn Calories Fast

The great thing about agility training is that you can apply more creative movements to fill up a set, when you execute high-intensity exercises with agility ladders.
You can even incorporate upper body workouts when you include walking pushups in a set. Cue the music, and enjoy some of our favorite drills

Start with this fun agility drill: it looks like a dance choreography and also great for rehab!
Place your right foot in the 1st square then let your left foot cross over to the next square. Then your transfer your right foot from behind and let it land on the 3rd square.
This looks like you're weaving between squares, while letting your right foot do front crossovers and your left foot does crossovers from the back.
Set your routine to music for double the fun!
Hopscotch Feet
Now, this agility drill is one for the kids - its pretty much a hopscotch move.
Jump with both feet inside the first square then jump out, standing with both feet apart. Then jump in with both feet again in the next square then jump out.
Repeat until you reach the last part of your agility ladder.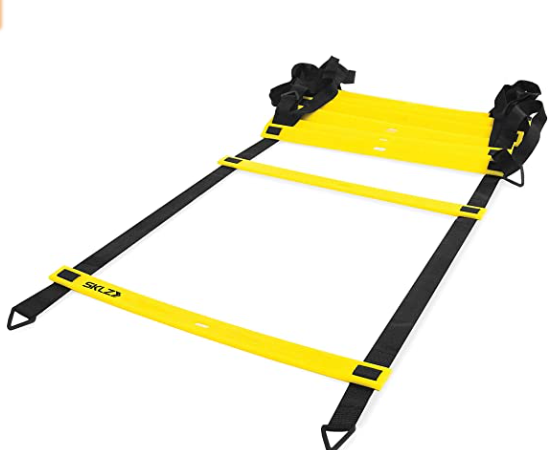 SKLZ Agility Ladder
Walking Push-ups
If you want a bigger challenge, walking push-ups is an agility drill that can work both your upper and lower body.
Do a high plank then lower your body as you place your two hands on the first two squares of the agility ladder. Then "walk" your arms over the succeeding squares and do another pushup. (Your right hand is on the 2nd square and your left hand is on the 3rd).
Repeat until you reach the last square. This is a good way to incorporate strength training as well.