Learn How to Play Flag Football the Easy Way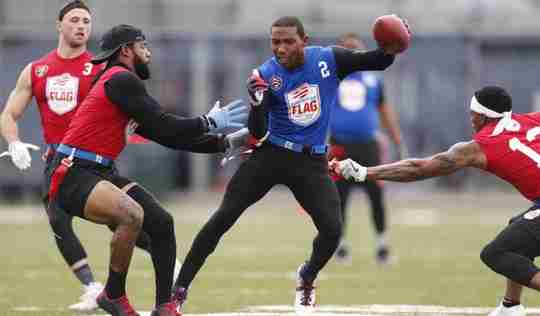 Flag football is considered a non-contact sport that's similar to "tackle football" which uses physical contact to block a person running with the ball. This friendlier version of football is a safe alternative that can even be played in elementary school – it offers all the fun of tackle football without any injuries.
People who play flag football develop stamina and agility along with a quick eye for strategy, to win a game based on the most effective play. As with any team sports – the camaraderie you build with your team makes it even all the more worthwhile.
Here are proven strategies to learn how to play flag football within the shortest amount of time.
Master Key Positions and Terms
The simplest game of flag football consists of 5 versus 5 players. One team is the offensive team, who will try to move the ball down the field, until they reach the end zone to score a touchdown. The defensive team's goal is to block the other team from moving the ball and prevent offense from completing a touchdown.
You'll need to know the positions and rules that affect each position.
- the center passes (snaps the ball) to the quarterback to initiate plays
- the quarterback executes the first pass from the center to kickoff a play
- the wide receiver is stationed either on the left or right side of the quarterback to receive passes
- the running back runs the ball from the back
Common flag football terms include:
Line of scrimmage - is an imaginary line across a field to separate opposing teams as they move into position to start a new play.
field – refers to the whole football game area where flag football is played. It is divided into yard lines and markers.
Endzone – is the last marker on the opposing side where touchdowns are scored.
Touchdown – is the end goal of an offensive team, and has the biggest number of points.
Markers – are parts of the field that determine where plays are restarted, whenever a ball is blocked.
Downs – whenever an opposing team is blocked, that is considered a 'down'. Each opposing team is given four downs or four "chances" to cover the distance to a specified marker, so that they can advance their play.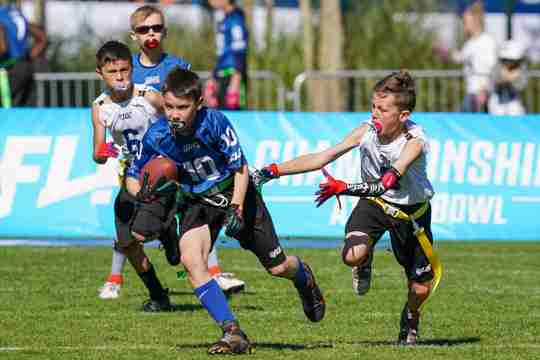 Start with Learning 1 Basic Play
Flag football is no different from NFL tackle football and follows similar plays. Plays are game strategies where each team moves in a predetermined course of action to force a desired outcome.
An offensive team executes plays to advance and score a touchdown or for a while a defensive team does their own plays to block an attempt. Examples of outcomes are: - to create space to pass the ball around, - to block the opponent, - or to defend the ball, among others.
There are at least 7 popular plays that you can learn as a flag football beginner. You can practice plays with your team without any opponents so that you can master running and passing skills needed for each strategic play.
After mastering all the known plays, you can even come up with your own, and have fun creating a unique strategy.
Watch a Video Animation of Flag Football Plays
You can learn flag football plays with whiteboards and colored magnets but nothing beats watching simplified animated versions of football plays on the net. There you can easily see all official team positions from a bird's eye view, as all members move to execute plays. Playing flag football can be a way for you to determine your own strengths, so it'll be more enjoyable to try out for each football position and see where you perform best.