Flag Football: A Safe and Exciting Alternative to Tackle Football
Flag football has gained significant popularity among youth and in school settings as a safer alternative to tackle football. With its focus on skill development, teamwork, and sportsmanship, flag football offers numerous benefits for young athletes.
In this blog post, we will explore the advantages of flag football for youth and schools, discuss coaching techniques and safety measures, and delve into the equipment and gear commonly used in this sport. Additionally, we will address some frequently asked questions about flag football to provide a comprehensive understanding of the topic.
Flag Football provides a range of benefits for youth and schools, Including:
1. Safety
Unlike tackle football, flag football eliminates the risk of serious injuries associated with high-impact collisions. By removing physical contact, young athletes can enjoy the game without the same level of physicality, reducing the chances of concussions and other traumatic injuries.
2. Skill Development
Flag football helps young athletes develop essential skills such as passing, catching, running, agility, and decision-making. It promotes strategic thinking, spatial awareness, and teamwork, fostering holistic growth both on and off the field.
3. Inclusive Participation
Flag football encourages equal participation among players of all skill levels. The absence of body size requirements allows for a level playing field, making it accessible to a wider range of participants. This inclusivity promotes diversity, camaraderie, and a sense of belonging.
4. Increased Strength and Muscle Tone
Fitness and Physical Activity: Engaging in flag football enhances cardiovascular endurance, coordination, and overall fitness. The fast-paced nature of the game keeps players active throughout, promoting a healthy lifestyle and instilling a love for physical activity from a young age.
When Coaching Flag Football for youth, it is crucial to emphasize the following techniques and safety measures:
1. Proper Fundamentals
Teach young players the fundamental skills of flag football, including throwing, catching, running routes, and defensive positioning. Focusing on technique from the beginning ensures a solid foundation for their development.
2. Sportsmanship and Fair Play
Instill values of good sportsmanship, fair play, and respect for teammates, opponents, and officials. Encourage positive attitudes, teamwork, and graciousness in both victory and defeat.
3. Warm-up and Stretching
Prioritize warm-up exercises and stretching routines to prevent injuries and promote flexibility. Emphasize the importance of proper warm-up techniques and cooldown exercises after each session.
4. Equipment Safety
Ensure that players wear the appropriate equipment, including mouthguards, comfortable athletic apparel, and non-metal cleats suitable for the playing surface. Emphasize the correct fitting and usage of flags to avoid accidents or injuries during gameplay.
Equipment and Gear:
When it comes to Flag Football equipment and gear, consider the following:
1. Flags
Look for durable and easily attachable flags that securely stay in place during gameplay. Opt for flags with adjustable sizes to accommodate different age groups.
2. Cleats
Choose non-metal cleats with proper traction to ensure stability and prevent slippage on various field surfaces. Comfortable and well-fitted cleats enhance agility and reduce the risk of foot and ankle injuries.
3. Gloves
While not mandatory, gloves can provide a better grip on the football, especially in wet conditions. Look for gloves with sticky palms or enhanced grip technology for improved ball control.
4. Mouthguards
Although not always required, wearing a mouthguard is highly recommended to protect against dental injuries and minimize the risk of oral damage during flag football games. Opt for a comfortable and properly fitting mouthguard for maximum protection.
5. Protective Clothing
Consider wearing compression shorts or tights to provide support and reduce muscle fatigue during gameplay. Additionally, lightweight and breathable jerseys or shirts help keep players comfortable and cool throughout the game.
6. Headbands and Sweatbands
Headbands can help keep sweat out of players' eyes, allowing them to maintain clear vision on the field. Sweatbands for wrists can also be useful in absorbing moisture and enhancing grip while catching or throwing the football.
7. Ball
Select a properly sized and weighted football suitable for flag football. Ensure that the ball is inflated to the correct pressure, as over- or under-inflated balls can affect the game's dynamics and accuracy.
8. First Aid Kit
It's essential to have a well-stocked first aid kit readily available during flag football practices and games. The kit should include basic medical supplies such as adhesive bandages, antiseptic solution, ice packs, and any necessary medications, in case of minor injuries or emergencies.
Remember to regularly inspect and maintain your flag football equipment and gear to ensure they remain in good condition and provide optimal safety and performance.
Frequently Asked Questions
Is Flag Football suitable for all age groups?
Yes, flag football can be adapted for various age groups, starting as early as elementary school and continuing.
Are there different Flag Football leagues or divisions based on skill levels?
Yes, flag football leagues often have different divisions or age groups based on skill levels. This allows participants to compete against others with similar abilities and experience, ensuring fair and balanced gameplay.
How many players are typically on a Flag Football team?
Flag football teams usually consist of 5 to 7 players on the field at a time. The exact number may vary depending on the league or age group, but smaller team sizes allow for increased involvement and participation by each player.
Can Flag Football be played indoors?
Yes, flag football can be played both indoors and outdoors. Indoor flag football leagues or tournaments are popular, utilizing specialized facilities or gymnasiums with modified rules to accommodate the indoor setting.
What are the penalties and rules specific to Flag Football?
Flag football has its own set of penalties and rules, which often vary slightly from traditional tackle football. Common penalties include holding, illegal contact, and pass interference. Rules related to flag pulling, blocking, and eligible receivers are also unique to flag football.
Can girls participate in Flag Football?
Absolutely! Flag football is an inclusive sport that encourages both boys and girls to participate, promoting gender equality and providing opportunities for all.
Is there a national or international Flag Football championship?
Yes, there are national and international flag football championships held in various countries. These tournaments attract top teams and players from different regions to compete for the title. Some leagues and organizations organize qualifying tournaments to determine the teams that will represent their country in these championships.
Remember, while these are frequently asked questions, specific rules and regulations may vary depending on the league, age group, or region. It's always a good idea to consult the relevant authorities or organizations for accurate and up-to-date information regarding flag football.
And Lastly:
For those who are new to flag football, get ready for an exciting journey! As a beginner, you'll have the opportunity to learn the fundamentals of the game, develop your skills, and embrace the spirit of friendly competition.
Flag football offers a safe and inclusive environment for players of all levels. You'll enjoy the thrill of catching a perfectly thrown pass, the exhilaration of making a defensive flag pull, and the camaraderie that comes from being part of a team. Don't be afraid to ask questions, seek guidance from experienced players or coaches, and most importantly, have fun as you embark on this exciting flag football adventure!
For those who have played flag football for a long time, you already know the unique joys that this sport brings. You relish the strategic aspects of the game, the precision of your throws, the agility of your moves, and the satisfaction of executing a well-coordinated play. You've built lasting friendships with teammates and rivals alike, sharing both the triumphs and the challenges on the field.
You appreciate the adrenaline rush that comes with each game, the competitive spirit that drives you, and the joy of being part of a tight-knit flag football community. As an experienced player, you continue to push your limits, refine your skills, and inspire others with your passion for the sport. Flag football has become more than just a game; it has become a part of who you are!
Check out our previous articles!
Why Is Flag Football Beneficial To Your Health?
How Playing Flag Football Helps You Burn Calories
5 Secrets to Faster Feet and Explosive Speed
Learn How to Play Flag Football The Easy Way
How to Use the Agility Ladder to Gain More Stamina
Elevate your Flag Football skills with our top-notch Agility Ladders.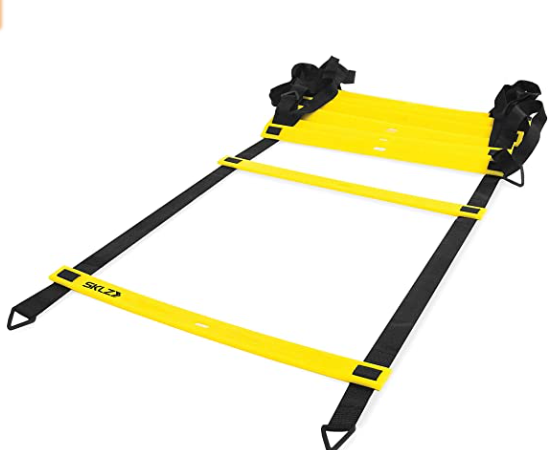 SKLZ Agility Ladder