Fun, Fitness, and Discipline: Why Boxing
and MMA are Perfect for Children
Today, I wanted to introduce you to the exhilarating world of Boxing and mixed martial arts (MMA), especially for beginners who are eager to learn. These combat sports not only provide an incredible physical workout but also offer numerous benefits such as weight loss, discipline, confidence building, and the opportunity for shared experiences among generations.
Many people perceive boxing and MMA as fierce and intense sports, reserved solely for adults or professional athletes. However, they are equally accessible and beneficial for children.
In fact, engaging in these sports from an early age can be highly advantageous for children's physical and mental development.
When it comes to beginners, both Boxing and MMA emphasize the importance of mastering the fundamentals. In boxing, you'll learn the art of striking using your fists while focusing on footwork, defense, and precise techniques. On the other hand, MMA incorporates various disciplines such as boxing, Muay Thai, Brazilian Jiu-Jitsu, wrestling, and more. It offers a well-rounded approach to combat sports, enabling practitioners to become versatile athletes!
For children, engaging in Boxing and MMA can have a profound impact on their overall health and learning abilities.
Regular exercise helps improve focus, concentration, and cognitive skills, ultimately enhancing academic performance. The discipline and structure learned in combat sports translate into other areas of life, promoting better time management and the ability to set and achieve goals.
In this blog, you will discover the incredible benefits that Boxing and MMA offer to your children!
Improved Focus and Concentration:
Regular exercise involved in Boxing and MMA requires children to concentrate on their movements, techniques, and reactions. This focus and concentration developed in training sessions can extend to other areas of their lives, such as academics.
By strengthening their ability to stay focused, children can enhance their study habits, retain information more effectively, and improve overall concentration skills.
Enhanced Cognitive Skills:
The physical and mental demands of Boxing and MMA stimulate cognitive function in children. The fast-paced nature of these sports necessitates quick decision-making, strategy planning, and problem-solving on the spot. Through regular training, children develop cognitive skills such as critical thinking, spatial awareness, and improved reaction times, which can have a positive impact on their academic performance.
Academic Performance Boost:
Engaging in regular exercise, like Boxing and MMA, has been shown to improve academic performance. Physical activity increases blood flow to the brain, supplying it with oxygen and nutrients essential for optimal cognitive function.
This increased blood flow and improved brain function translate into better memory retention, improved information processing, and enhanced learning abilities, ultimately leading to improved academic performance.
Development of Discipline and Structure:
Boxing and MMA instill discipline and structure in children. Training requires consistent attendance, adherence to rules, and a strong work ethic. The practice of following a training routine, showing up for classes, and respecting coaches fosters discipline, self-control, and personal responsibility.
These values and skills can extend beyond the training environment, positively impacting children's ability to manage time, set goals, and remain committed to achieving them.
Goal Setting and Achievement:
Boxing and MMA provide a platform for children to learn the importance of setting and achieving goals. In these sports, progress is measured through belts, competitions, or mastering specific techniques.
By experiencing the process of setting small and attainable goals, children learn the value of persistence, hard work, and dedication.
This skill can then be transferred to other aspects of life, such as academics, extracurricular activities, and personal growth, helping children become proactive and goal-oriented individuals.
By participating in Boxing and MMA, children not only improve their physical fitness but also develop essential life skills. The increased focus, enhanced cognitive abilities, discipline, and goal-setting skills acquired through these combat sports can positively impact their overall health, academic performance, and personal development.
Getting started with Boxing and MMA doesn't need to be expensive! Here are some affordable gear options to kickstart your journey:
Boxing Gloves: High-quality boxing gloves are a must for both boxers and MMA beginners. Look for gloves that offer proper wrist support, padding, and a comfortable fit.
Hand Wraps: Hand wraps are used to protect the hands and provide additional support to the wrists. They help prevent injuries during training and sparring sessions.
Mouthguard: A mouthguard is essential to protect the teeth, jaw, and mouth from impact during training or bouts. It's crucial for safety and preventing dental injuries.
Shin Guards: For MMA beginners, shin guards are important to protect the shins and lower legs during striking and grappling exercises.
Headgear: While not always required, headgear can provide added protection during sparring sessions and help minimize the risk of head injuries.
Groin Protector: A groin protector or cup is crucial for both male and female boxers and MMA practitioners to protect against accidental impacts to the groin area.
Boxing, MMA, Safety Headgear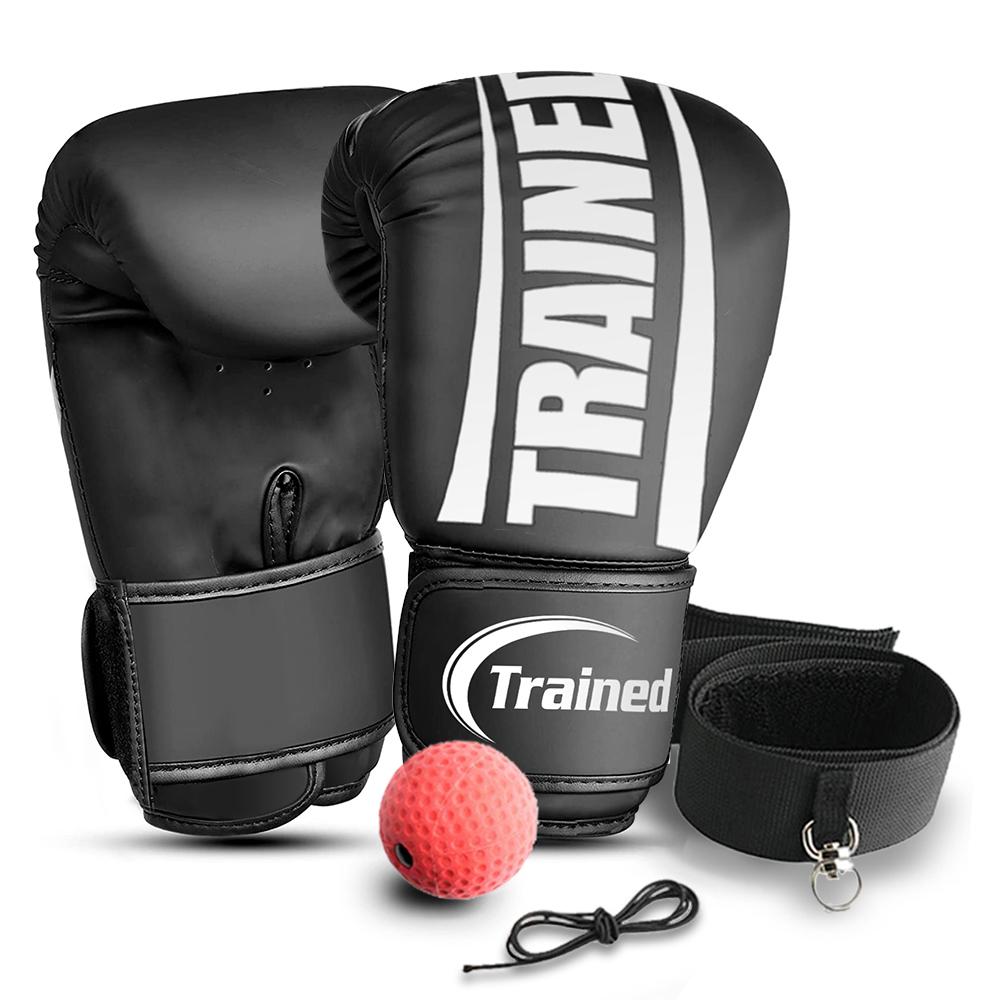 TRAINED Boxing Gloves,
Men & Women & Reflex Ball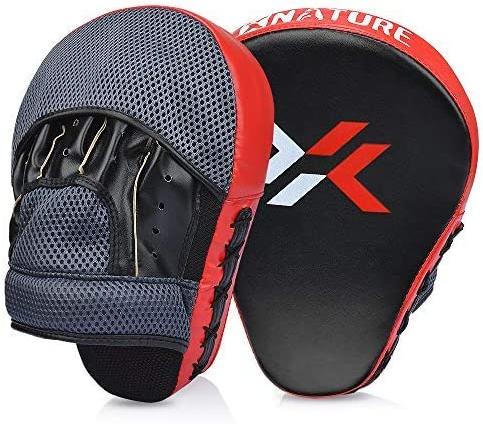 MMA Punching Mitts, Boxing Pads
Training Gloves: Apart from boxing gloves, having a pair of training gloves can be beneficial for practicing drills, bag work, and general training.
Jump Rope: Jumping rope is a fantastic cardio exercise that improves footwork, agility, and endurance. It's an inexpensive but highly effective training tool.
Focus Mitts: Focus mitts are used by trainers to help boxers and MMA beginners work on their punches, combinations, and accuracy. They provide a dynamic training experience.
Training Bag: A heavy bag or a training bag is essential for practicing punches, kicks, and strikes. It allows boxers and MMA beginners to develop power and technique.
Remember, safety should always be a priority, so investing in quality equipment that fits properly is crucial. Additionally, depending on the specific training or martial arts discipline, additional equipment such as grappling dummies, shin pads, and specific uniforms or gear may be required.
Frequently Asked Questions
At what age can children start learning Boxing or MMA?
While the specific age may vary, children can typically start learning Boxing or MMA around the age of 7 or 8. It's important to consider the child's physical and emotional readiness, as well as finding a reputable gym or instructor that offers age-appropriate training.
Is Boxing or MMA safe for children?
When practiced under proper supervision and with appropriate safety measures in place, boxing and MMA can be safe for children. It's crucial to choose a reputable gym with experienced coaches who prioritize safety, provide proper protective equipment, and emphasize proper technique and controlled sparring.
What are the benefits of Boxing and MMA for children?
Boxing and MMA offer numerous benefits for children. They promote physical fitness, improve coordination, enhance discipline and focus, boost self-confidence, teach self-defense skills, and foster a sense of sportsmanship and respect for others.
Will my child get hurt while learning Boxing or MMA?
While there is always a risk of injury in any physical activity, proper training and safety precautions significantly minimize the chances of serious injuries. Emphasizing proper technique, adequate protective gear, and controlled sparring helps ensure a safe learning environment.
Will learning Boxing or MMA make my child more aggressive?
Learning Boxing or MMA does not inherently make children more aggressive. In fact, these combat sports teach discipline, respect, and self-control. Coaches often emphasize the importance of using skills responsibly and discourage any form of violence outside of the training environment.
Remember that it's important to address these questions with a qualified instructor or coach who can provide specific guidance tailored to your child's needs and abilities.