Boxing for Beginners: A Quick Guide to Getting Started!
Welcome to the captivating world of boxing, where passion, skill, and determination converge. We're thrilled to have you here, eager to explore and delve deeper into the art and science of this extraordinary sport!
Boxing is not just a sport for the strong or the elite; it's an activity that people of all ages and fitness levels can enjoy.
Whether you're a young man, a teenager, a kid, or even a mom, boxing offers a range of benefits that make it an exciting and worthwhile pursuit.
In this blog, we'll address common questions and misconceptions about boxing, highlight its inclusive nature, and explore the many advantages it offers!
Accessibility and Fun for All:
Boxing is a sport that anyone can look forward to, regardless of age or gender. You don't need to be exceptionally strong to start; in fact, boxing training itself helps build strength over time.
As a beginner, you'll learn the proper techniques and gradually develop your skills, minimizing the risk of injury.
Boxing can be a fun and engaging activity for individuals or even an enjoyable experience for the whole family to try together.
Stance:
One of the first things you will learn is the proper boxing stance. This involves positioning your feet shoulder-width apart, with one foot slightly forward and the other foot back. Your knees should be slightly bent, and your weight evenly distributed to maintain balance and mobility.
Footwork:
Footwork is crucial in boxing for maintaining balance, creating angles, and enabling effective movement. You'll learn how to step, pivot, and shuffle to generate power and evade punches while maintaining stability.
Guard:
Establishing a solid guard is essential for protecting yourself and minimizing vulnerability to incoming strikes. You'll learn how to position your hands to cover your face and body while keeping your elbows in and chin down.
Punching Techniques:
Beginner boxers will focus on mastering the basic punches, including the jab, cross, hook, and uppercut. You'll learn the proper form, technique, and body mechanics for each punch, emphasizing proper weight transfer, rotation, and extension of the arms.
Defense:
Effective defense is crucial in boxing to avoid incoming punches. You'll learn fundamental defensive techniques such as slipping, bobbing and weaving, blocking, and parrying. These techniques will help you evade or minimize the impact of punches.
Combinations:
As you progress, you'll start practicing combinations of punches, linking different techniques together in fluid sequences. This helps develop coordination, timing, and the ability to effectively transition between offensive and defensive maneuvers.
Ring Awareness:
Understanding and developing spatial awareness within the boxing ring is important. You'll learn how to control the distance, position yourself strategically, and maneuver effectively to maximize your advantages and minimize your opponent's opportunities.
Remember that mastering these foundational skills takes time and practice. It's important to train under the guidance of a qualified boxing coach who can provide proper instruction, correction, and feedback to help you progress and refine your technique.
As you embark on your thrilling boxing journey, it's essential to equip yourself with a few fundamental pieces of gear that will set you on the path to success! Here's a list of the essential basic gear you will need for boxing!
Comfortable Workout Clothes: Opt for breathable and flexible clothing that allows for ease of movement during training sessions. Choose moisture-wicking materials to keep you dry and comfortable.
Headgear: Headgear is essential for protecting your head and face during sparring sessions. Look for headgear that provides adequate padding and a secure fit to minimize the risk of injury.
Hand Wraps: Hand wraps are used to support your wrists and hands by providing added stability and protection. They help prevent injuries such as sprains and fractures. Learn the proper technique to wrap your hands or seek guidance from a trainer.
Boxing Gloves: Invest in a good pair of boxing gloves that offer proper hand protection and support. Choose gloves with the right weight and fit for your training goals, whether it's bag work, sparring, or both.
Water Bottle: Staying hydrated is crucial during intense training sessions. Keep a water bottle nearby to replenish fluids and maintain optimal performance. Choose a durable, leak-proof bottle that can be easily carried and refilled.
Towel: Boxing workouts can be intense and lead to sweating. Having a towel handy allows you to wipe off perspiration and maintain comfort during training.
Sanitary Spray: To maintain cleanliness and hygiene, it's recommended to have a sanitizing spray or wipes to clean and disinfect equipment before and after use. This helps prevent the spread of germs and keeps the training environment safe.
Remember to invest in gear of good quality that fits you properly to ensure maximum comfort and protection during your boxing training!
In addition to the boxing-specific training, incorporating complementary exercises into your routine can greatly enhance your boxing performance. Here are some examples of exercises that can benefit boxers:
Cardiovascular Training: Engaging in cardio exercises is crucial for improving endurance and stamina, which are essential for boxing. Activities such as jogging, running, cycling, swimming, or using cardio machines like the elliptical or rowing machine can help boost your cardiovascular fitness.
Core Strengthening: A strong core is vital for generating power in your punches and maintaining balance and stability. Include exercises like planks, Russian twists, bicycle crunches, and stability ball exercises to strengthen your abdominal and lower back muscles.
Agility and Speed Drills: Agility ladder drills, cone drills, and ladder footwork drills can improve your footwork, quickness, and agility. These drills enhance your ability to change direction, pivot, and move with precision and speed.
Flexibility and Mobility Training: Incorporating stretching exercises and mobility drills can improve your range of motion, joint mobility, and overall flexibility. Consider incorporating dynamic stretches, static stretches, and exercises that target areas prone to tightness, such as the hips, shoulders, and hamstrings.
Strength Training: Adding strength training exercises to your routine can help build overall body strength and power. Focus on compound movements such as squats, deadlifts, lunges, push-ups, and rows to develop functional strength and improve muscular endurance.
Yoga and Mobility Work: Yoga can improve flexibility, balance, and mental focus, which are all beneficial for boxing. Additionally, incorporating mobility exercises and foam rolling can help prevent injuries and improve overall movement quality.
Remember to tailor your exercise routine based on your fitness level and consult with a qualified fitness professional or boxing coach to ensure that you're performing exercises correctly and effectively.
The physical benefits of boxing include:
Increased strength and power:
Boxing involves various punching techniques, footwork, and defensive movements that engage the muscles of the upper body, core, and legs, leading to increased strength and power.
Improved self-defense skills:
Boxing is a practical martial art that teaches valuable self-defense techniques. Learning proper punching, footwork, and defensive strategies can enhance your ability to protect yourself if needed.
Enhanced overall fitness:
Boxing workouts combine elements of cardio, strength training, and agility, providing a comprehensive full-body workout that improves overall fitness levels.
Discipline and mental focus:
Boxing requires discipline, dedication, and mental focus. Regular training helps develop discipline, perseverance, and mental resilience that can be applied to various aspects of life.
Stress Relief:
Boxing is an excellent way to release pent-up stress and frustration. The physical exertion and focus required in boxing can help reduce anxiety and promote mental well-being.
Improved Coordination and Balance:
Boxing requires precise coordination between the eyes, hands, and feet. Regular training can enhance hand-eye coordination, footwork, and overall balance.
Fat Burning and Weight Loss:
Boxing is a highly intense activity that burns a significant number of calories. Regular boxing workouts can help with weight loss, body fat reduction, and overall body composition improvement.
Boosted Confidence and Self-esteem: As you learn and improve boxing techniques, gain strength, and achieve fitness goals, it can have a positive impact on your confidence and self-esteem, both inside and outside the ring.
Social Interaction and Community: Boxing training often takes place in a gym or club, providing an opportunity for social interaction and a sense of community. Engaging with like-minded individuals can provide support, motivation, and a sense of belonging.
Remember to approach boxing with proper technique and safety precautions. It's advisable to train under the guidance of a qualified instructor to ensure proper form and minimize the risk of injury.
Hand Wraps Boxing Inner Gloves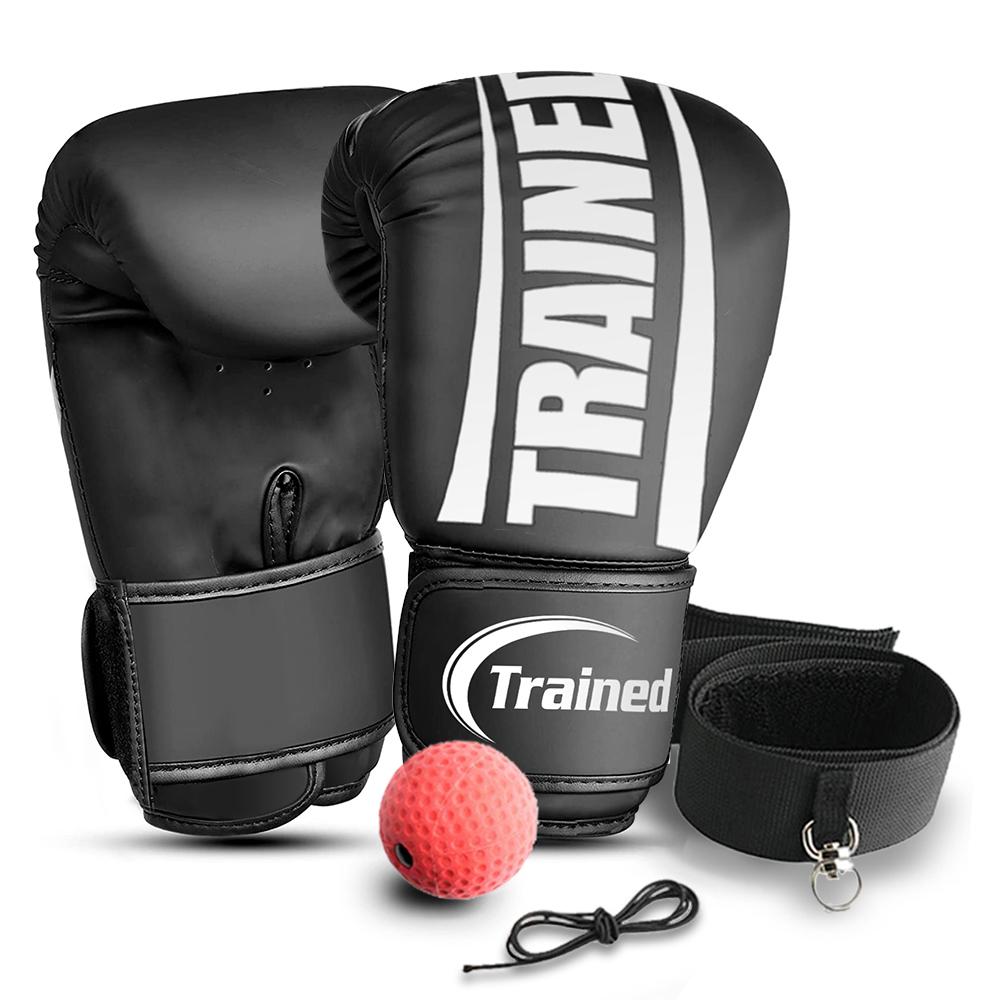 TRAINED Boxing Gloves,
Men & Women & Reflex Ball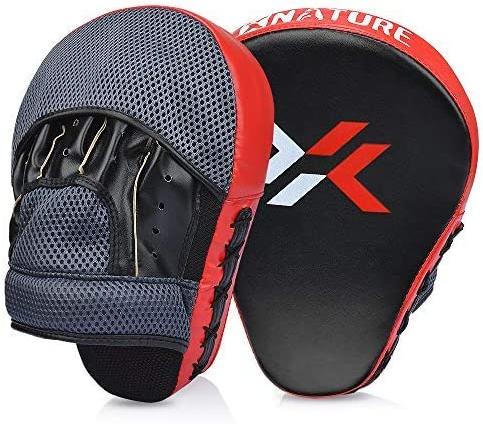 MMA Punching Mitts, Boxing Pads
Frequently Asked Questions
How many times a week should I train to reach maximum benefits? 
The frequency of training sessions can vary depending on individual goals and fitness levels. However, for maximum benefits, it's generally recommended to engage in boxing training at least 3-4 times a week. This allows for consistent skill development, conditioning, and progress in your overall fitness.
Can I become a good Boxer if I'm skinny?
 Yes, being skinny does not prevent you from becoming a skilled and successful boxer. Boxing relies on technique, strategy, speed, agility, and mental acuity, in addition to physical attributes. With proper training, dedication, and focus, individuals of any body type can excel in boxing. The sport provides an opportunity to develop strength, endurance, and muscle tone, regardless of initial body composition.
Is Boxing suitable for kids? 
Boxing can be suitable for kids, but it's important to ensure a safe and age-appropriate training environment. Many boxing clubs offer specialized youth programs that focus on fitness, discipline, technique, and self-defense skills, emphasizing sportsmanship and respect. When taught correctly, boxing can instill self-confidence, discipline, and a sense of achievement in children. However, it's crucial to prioritize safety, provide appropriate supervision, and adhere to the rules and regulations of the training facility.
Can Boxing be a bonding experience for older family members?
Absolutely! Boxing can be a fantastic bonding experience for family members of different ages. Engaging in boxing together allows for shared goals, mutual support, and the opportunity to learn and grow as a team. It promotes communication, trust, and creates lasting memories while pursuing a common interest in a challenging and rewarding sport. Boxing can bring generations together, fostering a sense of unity and camaraderie.
I've never done any sports before, will Boxing be something worth trying?
Absolutely! Boxing can be an incredible and worthwhile endeavor, even if you haven't participated in sports before. Its dynamic nature, combination of physical and mental elements, and versatility make it an engaging and fulfilling activity for beginners. Whether you're looking to improve fitness, learn self-defense skills, boost confidence, or simply have fun, boxing offers a unique experience that can be tailored to your individual goals and preferences. With proper guidance, training, and a supportive environment, boxing can be a rewarding journey that opens doors to newfound strength, resilience, and personal growth.
Remember that it's important to address these questions with a qualified instructor or coach who can provide specific guidance tailored to your needs and abilities.