9 Tips for Building Your Own Home Gym
There are several reasons why you might consider setting up your own home gym.
You don't have to pay an expensive monthly fee or deal with crowds when you have a home gym.  
A home gym also allows you to design your own gym, which really is significantly more handy as you can utilize the available space.
You have a lot of possibilities if you have a spare room for a gym. However, when space is limited, the trick is to choose workouts that do not require a lot of it.
Classic workouts like lunges, push-ups, sit-ups, squats (using resistance bands) don't take up much space and still deliver benefits. Try jump roping or using the agility ladder at home for fitness. It's wonderful for getting your circulation pumping and doesn't take up much room.
If you have the room and are motivated, you should definitely follow these home gym setup suggestions!
Pick up some basic, multifunctional equipment to get started. Begin with a yoga mat, which may be used for yoga, pilates and stretching.
Resistance bands are used for both strength training and flexibility.

A kettlebell or two for weight lifting and adding resistance to body weight exercises.

A jump rope or an agility ladder.  An agility ladder may be used for a variety of agility activities. These fast motions elevate your heart rate, put your balance and coordination to the test and can help you enhance your speed and athletic ability as well as strengthening your joints, ligaments and tendons.
Utilizing multifunctional equipment is another method to make the most of the space in your home gym.
1. Choose a Desired Space
Before you go out and buy a bunch of home exercise equipment, you need to determine out how much room you have. You may put your gym just about anywhere in your home or apartment. Among the better spots in your apartment or home may be the basement, garage or spare room.
Clear up the room and locate alternate storage for whatever was previously in there  - once you've decided where you'll install your gym.  After that, you may correctly plan and select the workout equipment you like.
2. Utilize Your Home Gym to it's Full Potential
How likely are you to pull out your workout equipment every time you want to work out if you keep it in the closet or beneath your bed?
Even if you are limited in space, designate a spot for your gear where you can see it; doing so will encourage you to utilize it.
Towels, trainers, a water bottle, a yoga mat and everything else you need for your exercises should be kept in this area. Prepare a convenient area to place your TV , laptop, or tablet to watch exercise programs.
4. Purchase  Durable Rubber Flooring
If you want to have free weights in your gym, it's important to avoid causing damage to your home. Get rubber flooring for certain places to avoid any damage.
Not only will this preserve the surface, but it will also minimize noise.
Mats for various types of exercise equipment, such as treadmills, steppers and cycles, are also available.
5. A wall Clock
A clock is another addition to the wall that may just assist with your workouts and will definitely benefit you in a variety of ways.
A clock is useful for your home gym wall since you may refer to it when taking breaks between sets or performing timed exercises like planks.
For one thing, you can keep track of time so you don't get distracted throughout your workout.
6. Add in Some Speakers
Music is another powerful motivator in the gym. The benefit of having your own gym is that you can play any music you want.
This is why you should consider purchasing some speakers.
You may acquire portable speakers or mount them on the wall. In any case, you will have a great time completing your workout while listening to your favorite uplifting music.
While a gym offers a dedicated space, home workouts provide additional freedom and can be more efficient. 
7. Make Use of Multipurpose Equipment
Utilizing multifunctional equipment is another method to make the most of the space in your home gym.
Instead of having a bench press and a squat rack, you may combine the two.
Some racks have a pull-up bar as well. Because the racks can be adjusted, you can get a lot more out of the equipment without taking up too much space.
8. Search for Quality Equipment
When purchasing household equipment, it is essential to invest in high-quality equipment.
You want to keep that equipment in your home gym for a long time like treadmills, ellipticals, exercise cycles, strength equipment and a variety of other fitness equipment that works for you.
And Lastly, Remain Organized!
Keep your gym tidy so that you can simply find the equipment you need, but also so that weights and plates aren't lying around.
This includes purchasing dumbbell racks and bumper plate trees and you wont have to worry about other people misplacing weights when you have your own gym! A home gym is more convenient, cost-effective in the long term and private.  At the very least, you'll only need to purchase necessary  equipment depending on how you choose to exercise.
If you currently have the essentials  you can always expand your collection slowly.
Hand Wraps Boxing Inner Gloves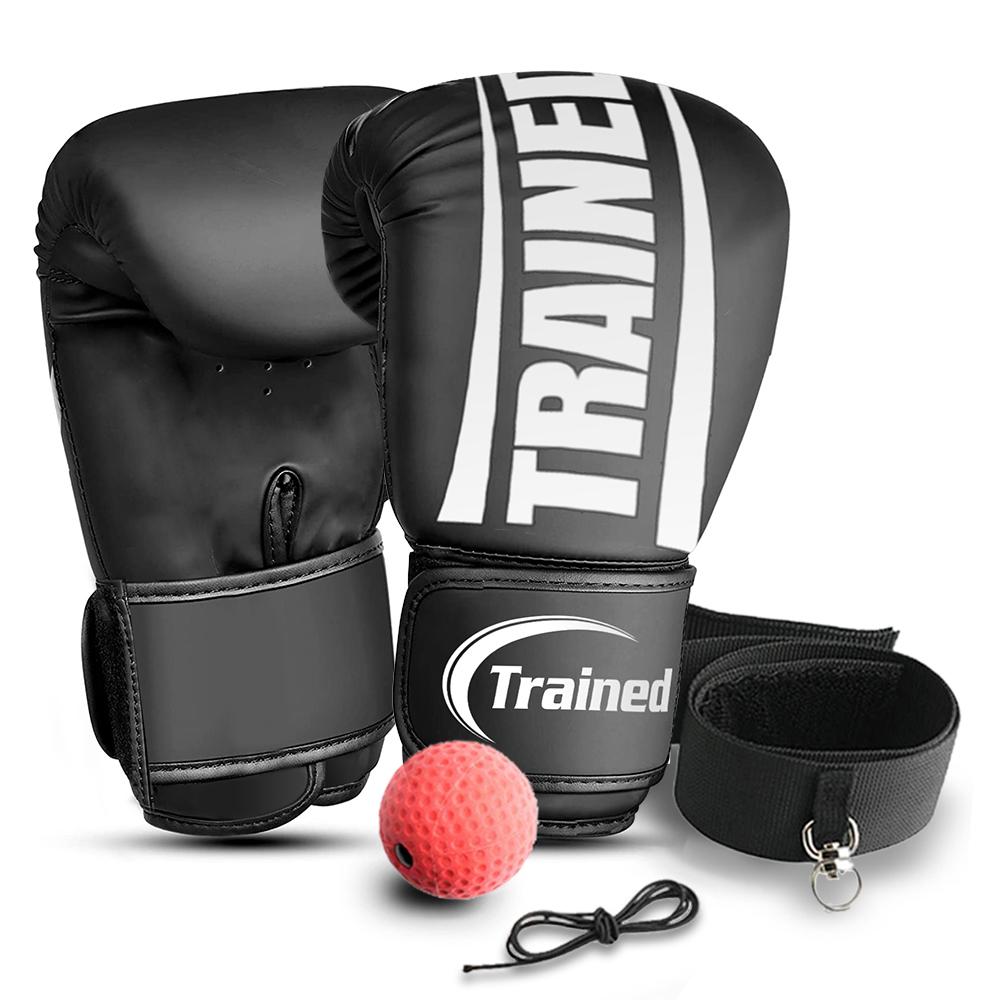 TRAINED Boxing Gloves,
Men & Women & Reflex Ball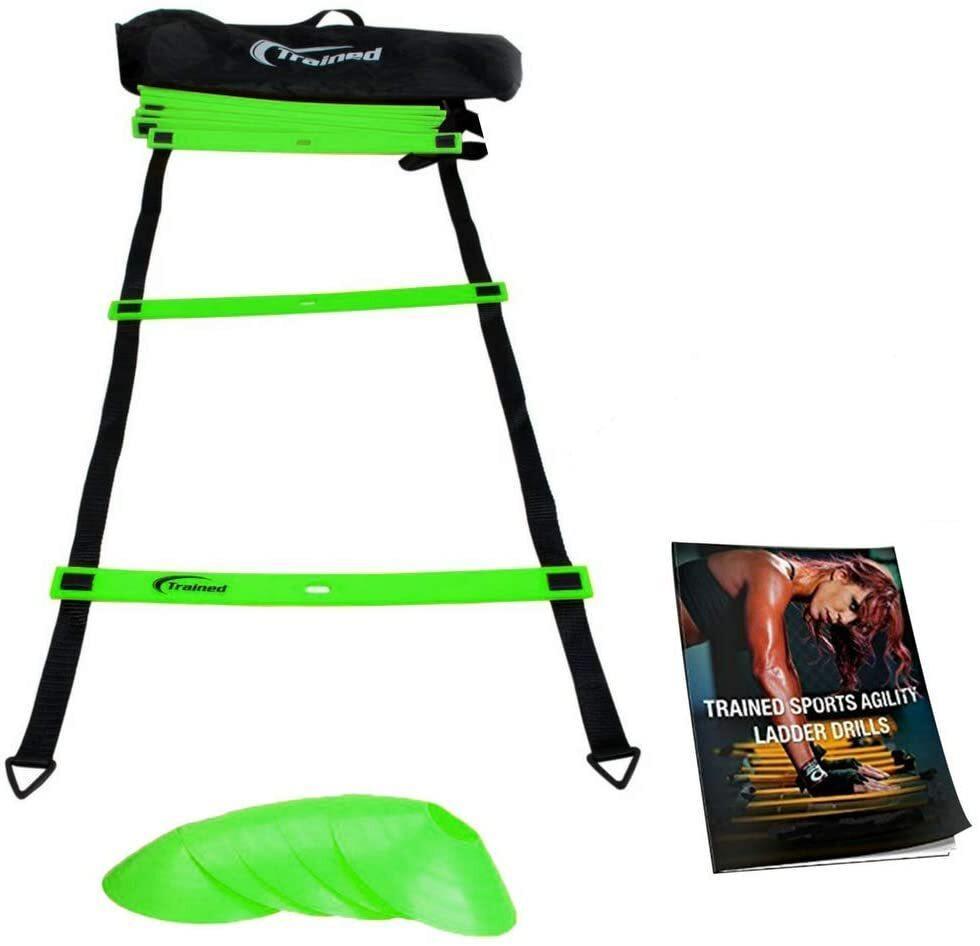 Trained Agility Ladder
Frequently Asked Questions:
Can a home workout be as effective as a gym workout?
It all comes down to how you use your time and resources to maximize your effort. The gym isn't the only place to get a proper workout. Working out at home can be equally as beneficial. While a gym offers a dedicated space, home workouts provide additional freedom and can be more efficient. 
Is it worthwhile to invest in a home gym?
Even though you decide to continue your gym membership, you'll probably discover that having several home workout equipment comes in handy on a rainy day, days when you can't make it or are pressed for time. At the end of the day, a home gym is unquestionably worthwhile!
How long should home workout sessions last?
Begin by doing short workouts of 30 minutes. Add a couple of minutes every week as your strength improves. Experts  recommend 75-150 minutes of aerobic activity per week, as well as two strength-training sessions.
What if I cant purchase home gym equipment right away?
If you're just getting started with home exercises, and eager to start right away, you may always skip the equipment and focus on bodyweight workouts, which are absolutely free. Despite what any fitness infomercial may claim, you can still get in shape without purchasing anything.
Check this out!
Interested In Trying Out Calisthenics? Here are 11 Benefits!