🏀 IMPROVED SHOOTING TECHNIQUE: The printed hand markers on the rubber basketball offer a visual guide for proper hand positioning. By aligning your hands with the markers, you can develop a consistent shooting technique, leading to improved accuracy and precision on the court.
🏀 VERSATILE INDOOR AND OUTDOOR USE: Made from high-quality rubber, this basketball is designed to withstand both indoor and outdoor play. Its durability ensures that it can handle the demands of intense training sessions, making it a reliable choice for practicing shooting skills in various environments.
🏀 VERSATILE TRAINING TOOL: Beyond shooting practice, this basketball can be used for a wide range of training drills and exercises. It can help improve ball handling, passing, dribbling, and overall basketball skills, making it a versatile tool for players of all positions.
Unmatched Protection and Durability for
Peak Performance!
🏀 COMFORTABLE GRIP: The rubber surface of the basketball provides a comfortable grip, allowing for better control and handling during gameplay and practice sessions. This helps players focus on their technique and skill development without any discomfort or distraction.
🏀 IDEAL FOR BEGINNERS: For beginners learning to shoot, the printed hand markers serve as a helpful learning tool. They provide a visual reference that simplifies the process of understanding and adopting the correct shooting form. This makes the basketball suitable for players at various skill levels, from novice to advanced.
ONLY THE BEST QUALITY FOR YOU!
EXPERIENCE THE DIFFERENCE WITH OUR TRAINED BASKETBALL COLLECTION:
Unmatched Protection and Durability for Peak Performance - Where safety, durability, and performance meet to elevate your basketball journey!
BUY WITH PEACE OF MIND!: We have given our best in order to offer you a top-notch quality product at an excellent, antagonistic price.


However, if you aren't entirely satisfied with our Basketballs, we offer you a full money back guarantee – no questions asked!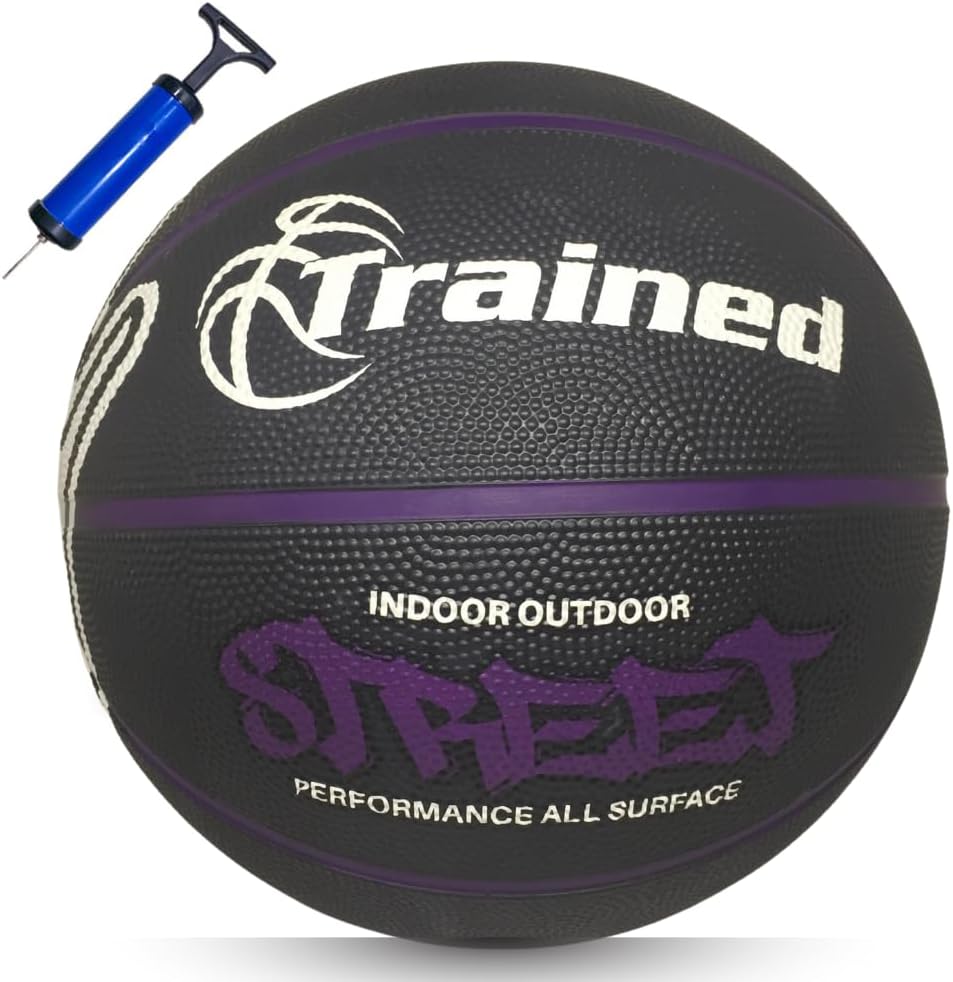 Our basketball collection is designed to elevate your game no matter where you play. Whether you prefer outdoor or indoor basketball, we've got you covered.
We believe in making the game accessible to all ages, so our collection is perfect for both children and adults.
Get ready for some serious hoop action and quality family time with our new basketballs. With a focus on durability, performance, and fun, our collection is the perfect addition to your sports gear. Score big on the court, make memorable family moments, and enjoy the thrill of the game with our new basketball collection!
Feedback From the Frontline: What Our Customers Are Saying!
★ ★ ★ ★ ★ 
"I recently purchased this basketball for our family, and it's been a fantastic addition. My Son and I have already played many games with it! The ball is the right size and weight for a great game. The air pump included is convenient, and it has held up well even with constant use. I'm very pleased with this purchase." - David
★ ★ ★ ★ ★ 
"I've been using this basketball for my training sessions, and it's been terrific. The grip and feel of the ball are just right. It's ideal for practicing both inside and outside. The added air pump is a thoughtful extra. This basketball is definitely worth the price!" - Coach Sam
★ ★ ★ ★ ★ 
This is a great outdoors/indoors basketball. I got this for my son and his friends so he'd have an extra basketball. It comes with an air pump which was a bonus. It aired up nicely and feels great. It shoots well. It bounces good. I love the purple color in this ball. It has a large hand on one side to show you how to properly hold a basketball when shooting, a great teaching guide and learning basketball. Overall, this is a nice pro sized (full size/professional sized) basketball. This would make a good gift for any person that loves to play basketball. The price is very good for a professional sized basketball of good quality that even comes with an air pump and needle. I recommend this product.
- Tyffany
★ ★ ★ ★ ★ 
"I bought this basketball for my daughter, and she absolutely loves it. It's perfect for both indoor and outdoor play. The included air pump was a nice surprise. The ball feels great, shoots well, and has a cool design. I highly recommend it!" -Luisa